Here at Spicer HQ we like to pride ourselves on providing efficient storage and delivery solutions. We offer a simple pricing structure, cheap delivery fees and free local collection. Our MD, Mr Stuart Spicer, is a pretty mean drone pilot. He can smoothly control a Phantom DJI in high winds whilst remaining pretty unruffled. You might think the two are unconnected but if Amazon's latest plans are anything to go by then warehousing operations of the future are going to involve an outrageously ambitious fusion of both.
We've blogged about Amazon's strategies for remote control delivery before but their drone delivery programme just got even weirder with the announcement that they've brought out a patent for 'drone delivery hives.' What's the buzz on them, you ask? Well, these could be Amazon's way of producing an ultimately cheaper, unmanned and quicker way of sending that Poldark box set that you bought for your Auntie Pat.
Standing about 10 storeys high, the hives are fully automated towers designed to be much closer to town centres than Amazon's vast warehouses. Their delivery trucks will drop the merchandise at the hive, where ROBOTS would collect the load and take them into the tower. These droids would then supervise the attachment of the goods to the drone, but only after ensuring that the machine is fully charged.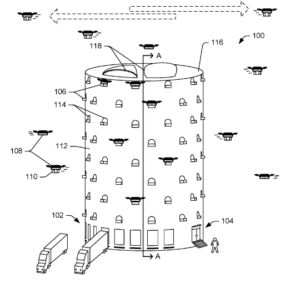 Then, via some kind of remote piloting linked to an individual tracking code, the drone would fly up a vertical corridor within the tower, probably assisted by a type of propulsion device that speeds its ascent. So far, so sci-fi, right? But then the drone would reach its own designated window, which not only acts as a portal but also as a potential catapult, with its own ejection booster built in!  We can only marvel at the scale, ambition and, let's face it, sheer nuttiness of Amazon's delivery plans.
And this is before the drones have even been released into our neighbourhoods. How are they going to fare in built up areas, and indeed how will the locals react to the sight and sound of an endless swarm of buzzing mechanical postbots?  No doubt some folks will remind us that we all got used to the persistent rumble inflicted upon us by ground traffic. But try telling that to bored kids who suddenly have innumerable moving targets to take shots at care of Amazon's Game of Drones. 
If you enjoyed this blog then you can keep up to date with news, humour, client showcases, tips and special offers via our regular newsletter!